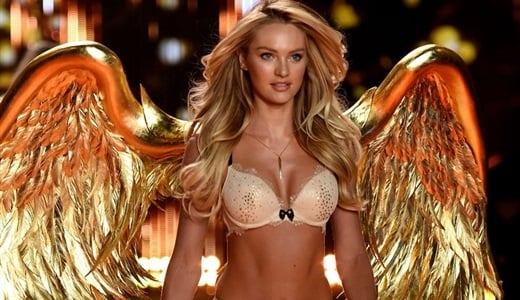 ---
Model Candice Swanepoel shows off her long lean perfectly proportional body in a variety of retarded looking lingerie costumes for the 2014 Victoria's Secret fashion show in London in the photos below.
Candice Swanepoel is certainly an extremely stupid blonde bimbo, for she has yet to reply to any of my numerous generous offers to join my harem except to threaten something called a "restraining order" against me (like a legal document could stop a virile Muslim cocksman like myself once I have set my sights on my next erotic conquest).
Yes instead of experiencing the unimaginable pleasures that come from sexual servitude to a powerful Muslim man, Candice Swanepoel has chosen to jet set around the world making obscene amounts of money while prostituting her nearly flawless body in skimpy outfits on exotic tropical beaches and runways like in the photos below. Candice is clearly deranged for any sane woman would much rather be tongue bathing my hairy ball satchel then walking some runway with Taylor Swift's crappy music blaring in her ear.