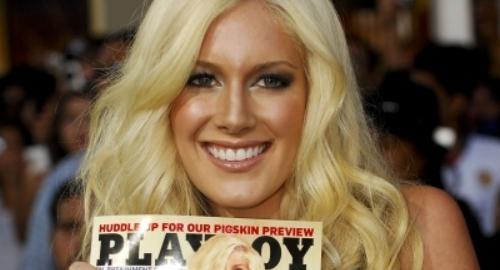 ---
Heidi and Spencer showed up at the premiere of "G.I.Joe: Rise of the Cobra" yesterday to promote Heidi's upcoming issue of Playboy.
Honestly I could not write anything funnier then what these two actually said, so I'll just provide the quotes. I don't know why there is such animosity towards Heidi and Spence at least they embrace the fact that they are self-consumed, shallow, scum that contribute nothing of value to this world. Other celebrities act like they've just cured cancer, and condescendingly tell us that they still consider themselves "just like everyone else".
Anyway here are Heidi and Spencer's brilliantly stated quotes about her Playboy spread.
"I worked out very hard for this."

"I worked by butt off," she continued. "So if you want to see how I got my Playboy body, you can go to [my Web site]."
"See her powerful curves," Spencer said. "They are powerful!"
"It's an honor," he said. "I feel like I did something great, like I should get a trophy!"
"[Playboy] kind of had a vision… and we brought in Matthew Rolston, who is a very well known amazing photographer," she explained. "So, it's more art."
"Beautiful art," Spencer added. "Not like Picasso art, real beautiful art, you know what I'm saying?"