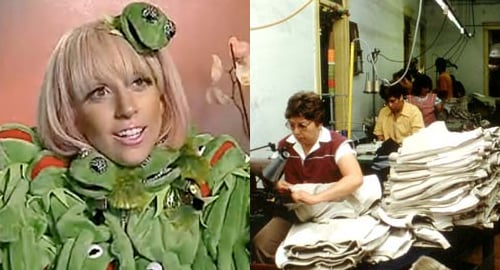 ---
There may have been an ulterior motive for Lady Gaga's recent speech against Arizona's illegal immigration crackdown. It seems the pop diva has an entire team of illegals working around the clock on her outlandish wardrobe.
"The crazy outfits don't make themselves, and paying union wages to get them done wouldn't be cost effective," said a source close to Gaga who wished to remain anonymous. "She pays these Mixtecans from Mexico next to nothing."
The source, who we met in the parking lot of a Carl's Jr. in Camarillo, CA, also claims that the immigrants involved are being kept in deplorable conditions.
"Right now, she's able to house them all in a urine soaked horse trailer and pay them in beans and rice," he said. "And I've personally seen her smack an elderly seamstress across the face because one of her Kermit-the-Frog head dresses was the wrong shade of green."
"It's about control, added the source. "Gaga loves the illegals because they are too afraid to call OSHA."